Good Morning my lovely Halee Jayden!
I can hardly believe that you are five years old today!
I want you to know that you are a true treasure in my life and I couldn't imagine a single one of my moments without your precious heart in them. You're only five but you teach me the deep, real things of life.
You're only five but you know the things that matter. You know how to love even those whom you've never met. You're an incredible share-er. You are always teaching your little sister how to speak kind words, simply by the gentle, tender way that you speak to her. You're always looking out for your smallest brother, making sure that he has something to play with, you make him laugh when he's all upset and teary-eyed.
You're adventurous and willing to try what-ever crazy stunt Siah's trying to pull off. You spend hours of your life swinging on that duck-taped, plastic green swing in our wide-open yard. You seem so free when you're flying back and forth into the wind. Your face glows and you laugh your contagious laugh.
You truly are hilarious. You're the goof ball in the family, cracking jokes at the dinner table, making silly faces in the backseat of the car. And nearly every time I walk up behind you and pat you on the back, you turn to me and in the funniest NY accent, you tell me, "Mama, Why you burpin' me up?" It makes me laugh every time.
You're the sensitive one of the bunch, a tender heart that feels from the deep parts. You take after your Mama. Sometimes I struggle to know how to minister to your heart but I have sought the Lord fervently this past year about the two of us and I know that He's got us both, our hearts, our relationship as Mama and daughter, in His mighty, gentle hands. He's opened my eyes to so many of the gifts He's placed in you this year. You're a divine
example of true forgiveness.
.. forgiving everything always, without hesitation is something those of us with many years and many pains would benefit greatly from watching it lived out in your precious little life. You
exemplify Christ
and you have no idea that you're doing so. I LOVE that about you.
You are the girliest of girly girls. You LOVE pink and princesses. You are dressed up in princess gowns and high heal shoes 90% of the time. You love to dance. You love to sing, although, if that's the profession you're hoping to embark on, we just might need to get you some lessons! :) But I love the way that you could care less what you sound like or what you look like. You can have the most ridiculous outfit on and be dancing your heart out without even an ounce of rhythm, and you'll stop and look up at me and say, "Mom, God sure made me beautiful, didn't He!" Yes, my sweet girl, He sure did!!! And I pray with all my heart that that's the way your heart will be always. I pray that you will never forget that you are fearfully and wonderfully made, that what makes you beautiful is that Your Heavenly Father created you just the way that He wanted you to be for His glory. You are His precious treasure and He has blessed your Papa and I beyond words in giving us a daughter such as you.
I can hardly believe that five glorious years have already gone by since the day we first held you in our arms! Sweet girl, I love the thousands of ways that the Lord has blessed me in giving me you. I love the way your sparkly green eyes light up a room, the way your heart joy is so contagious, the way your kindness witnesses to this Mama of yours.
I LOVE YOU, my most precious five-year daughter!
Hope today is one of sweet sweet joy for you, my Halee!
With the mostest of love,
Your Mama
****************
Donuts are usually the tradition around here on birthday mornings... but this year Hal asked her Papa to make her some strawberry pancakes with bananas and whipped cream.
(Reesie's our kitchen helper... when anyone's in the kitchen... so is she. :)
As of today, I have TWO five-year-olds in my house... Our Irish twins.
The day I found out I was pregnant with our Hal, Siah was only ten weeks old, I remember the gratitude that I felt that the Lord was in a sense giving us back, ten-fold, what He had asked us to surrender to Him with our

first set of twins

...
We now have best friends...
And sweet Hal opened some gifts from grandparents... She truly LOVED each and every gift. She's a hard one to read sometimes... She's not usually that outwardly excited about things, but you know with her because that "Hello Kitty" bag has been on her shoulder since the moment she took it out of the box.
Birth-DAYS around here are more like Birth-WEEKS... Saturday was birthday breakfast, yesterday we went to the movies with a few of her little friends and their Mamas. Today, it's off to ChicFilA.... And this weekend we're having our annual, "We LOVE our Treasures" party with another awesome treasure that we love, Campbell, who also has an April birthday, at the park.
HAPPY BIRTHDAY HALEE JAYDEN!!!!!! May you know in your tender little heart that today is a day of wildest joy and truest gratitude for your Papa and Mama! :)
This week I am counting ONE great gift.. Her... My precious Hal!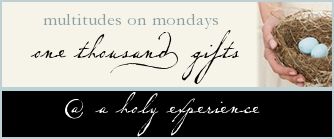 ***Comments are open today if you'd like to leave little note for our sweet Hal!***