There are six of us around her table on a Thursday. Six Bibles lay open on the wood. And she takes us through another chapter of First John.
He alone is the one who can make a woman wise. And she obeys His voice and opens her mouth with wisdom and we all sit there silently soaking up her words. But she knows that we can all know His Word the way she does, and she gently teaches, taking us verse by verse. We all share what we've found, ask questions of one another.
There's a verse towards the end of the chapter. I'm anxious all night to get there.
"There is no fear in love. But perfect love drives out fear, because fear has to do with punishment. The one who fears is not made perfect in love." (4:18)
I trip over fear more than I would like to admit. Fear of the foolish things, like finding snakes in my bed. Fear of the loss, My Mama, My Joey, My treasures. And I wonder is it really possible that His love could scatter all my fear? Really?
And then it happens... one of the six. She's courageous and she lays her heart out on the table. She talks of finances, she talks of trusting the Lord. We talk of the Lord giving us everything we need. But then comes the hard but beautiful truth...
What happens on the day when we can't pay that utility bill? What happens on the day when the pantry is empty and so is the bank account. Where is God on that day? On those days does our fear become legit? How can perfect love truly cast out all fear when we're in a world where we've convinced ourselves that there are certain fears that are completely justified.
And then the wise woman, she says it... that hard, beautiful truth...
Our rest is not in what He provides, But in the way that He loves. His love is constant, never ceasing.
She's walked that road... the one where you're not sure where the bread might come from. She speaks from a life lived. She knows His love like the back of her hand... and she's fearless.
If we are truly living loved then that MIGHTY love, will scatter all of our fear.
It is true that He gives us all that we need... But is it not also true, that
He alone is all that we
need?
He alone is enough. He
AlONE
is enough. If the whole world falls apart, we will still have His glorious love, never ceasing to make it's home in the depths of our souls.
Back at the the table, I'm thinking to myself... "But Lord, what about this? But what about that? No food for my kids? The loss of My Joey?" And she just keeps saying it... "Never forget the way that He loves."
There's a story I know of a mama with eight sons, her husband is off at war. Her children go to school on a foreign angels dime and there are seasons that go by where the wheat simply does not grow and she has no choice but to send her boys to bed hungry. And one afternoon an American missionary walks by her front door, and her and her boys are singing a joyful noise, smiles all around. The missionary asks her translator what they might be singing about there in the dirt, and the words change her heart for a lifetime... "
Jesus is all that I need.
" This Mama and her eight sons, sing it with joy, live it with joy. This Mama and her eight sons, are there in the dirt,
living loved.
I must find a way to do the same. Oh how I want to live loved.
Jesus is

all

that I need. No, really, that's it.

Jesus.
May I never cease to count the ways He loves.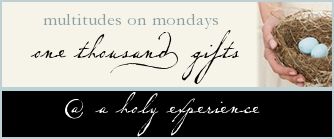 #335-370
Hair-ties found, sand in between my toes, treasures laughing with old friends, the sun setting over the ocean. 80 degress, the windows down, slowly cruising down the pacific coast, soaking up the familiar.
An afternoon at the park with Gramps. the way Granny's makes clean laundry smell. Our oodles of bags and stuff taking over Granny and Gramps house. A spaghetti dinner around the table. Pictures of my treasures from my favorite picture taking friend. Granny teaching the treasures about Jesus while dying Easter eggs. Thyme in the Ranch, Beautiful flowers surrounding the Inn. A dear dear friend taking the treasures for the afternoon so I could actually have a conversation with another mama of six. Birthdays and weddings, an unexpected afternoon marriage retreat.
The sound of sausage sizzling on a Saturday morning. A boy piling toast high. A Papa scraping the eggs... A full day of yard work, working to restore this 100-year-old farm all of us together.
Tears and laughter all in a five minute conversation. Discovering more and more of His forgiveness. Family and friends who love on our treasures as much as we do. My first mother's day card 100% made by oldest son (paper cut out in the shape of a tea cup, when you open it it says, "Mom, you are tea-riffic!") LOVE IT! :)
Finally letting go of trying to get everyone out of the house with two matching socks. Sisters smiling in summer. The privilege of Motherhood. How's He's helping me to only speak words that are helpful for building them up. How's He's speaking wisdom into each of my moments with them. Learning to live loved, counting all the ways He loves, really believing that He is ALL that I need.
And the list can, and will, go on... For He never ceases to love. :)