messy-souled, sin-stained, grace-breathing Mama,
trying to
passionately disciple four,
messy-souled, sin-stained, grace-breathing children
into a

brilliant wonder of You.

..
You Lord, The One And Only True God.
I flip and I flounder... Oh Lord, you know how I flounder.
And I wonder, how can I do this? How can I bring them into this
brilliant wonder
of their Savior when my own heart is such a mess? Are they really going to grow up and desire you more than anything?
God, when I look in a mirror I see a worn out Mama with wrinkles and grey hair popping up everywhere to prove it. I see who I am. And even when I look long and deep, it's hard for me to see you making me and molding me into the woman that I want to be for your glory. But your faithfulness always brings hope. And I know that you desire my treasures to fall hard after You, even more than I desire them to fall hard after You. So together under this quaint farmhouse roof, we will daily discover more and more of you because your glory is everywhere, we need only to be diligent in the seeking. You whisper loud, "Seek, and ye shall find!"
Four things I can do daily to diligently run the race towards an eternity of worshiping you...
Four things that I can do daily to savor You with my life and possibly lead my children into a
brilliant wonder of You...
There a millions more than four... Yes... But for today, for these moments, for the now, help me Lord to focus on these four.
1. Fill our home with your Word. We started this year. Each meal we eat of your Word. "Man can not live on bread alone, but on every Word that comes from the mouth of God." (
Currently, In the mornings it's A
Child's Story Bible
. At lunch,
Right Choices
. And at dinner Papa has been reading a short passage from the book of Mark. We read and discuss. If it sounds "suzy-spiritual", know that it's not. Reesie talks through most of it about her shoes, or sometimes about the specific parts of the meal that she doesn't much care for. Jed cries off and on and chatters in a rather loud voice. Hal and Siah are getting better at narrating what they heard but let me assure you that at this point in the journey there are no theological discussions going on around the farm table
. The blessing is in the obedience of being in His Word, together. :)
2. Rise early and look into your glory. Fill myself with your Word. Fill my mornings with praise to you. May I wash my face in your truth so that I might wake up to your glory and shine your light onto my children. "Those who look to Him are RADIANT." Psalm 34:5 (
I wanna be radiant. I must always then, be looking and learning of Him.
)
3. Focus only on the task at hand, and fill that moment with words of encouragement. ("But encourage one another daily, as long as it is called TODAY." Hebrews 3:13) I cannot worry about what will happen in an hour. Nor do I benefit in dwelling on the mistakes I made in the previous hour. There is abundant grace, not lightly showered, but wildly thrust down on each of my moments, soaking me with this joy-filled opportunity to simply try again in the next moment, when I've flopped in the previous one. Every mistake made is an opportunity for grace-filled forgiveness.

(And let me tell you, that children are some of the absolute best, genuine forgivers. They know how to take an offense that was lived in the west and throw it all across the world to the far far east! Amazing!)
4. Lavish that same grace that I receive from You, on them. One of the greatest blessings in grace, is the choice to lavish it freely on the ones I love... following Your example. Being a grace-giver to my children, what a gift I can give! (
I will confess Lord, that I often get caught up in things that have nothing to do with your kingdom. I chose anger over shoes left at the front door and dirt trails that lead me from the back door to the culprit who forgot to take their muddy boots off before running up stairs. What I want to care about are the matters of their hearts. Please Lord help me to give grace in their learning as you so gently lavish grace on me in my learning.)
You alone are the true source of all things good and worthy of our days. What we have for dinner, whether or not their rooms are perfectly clean, if the laundry's piled high, or the dirty dishes are taking over the kitchen, all such things will perish in the end. The ONLY thing that matters on this earth, on this day, May 19, 2011, is that when we as a Mama & Papa & 4 small children live this day, we love on and treat one another in such a way that we would all gain a more
brilliant wonder of You.
May we never cease to chose what would bring you the most glory in each of our days.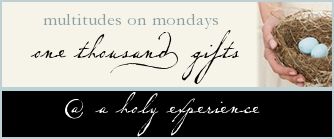 Counting your endless gifts...
#379-395
How Siah calls his brother "joy boy."
The sound of the dishwasher scrubbing my dinner pans... help for a tired Mama.
Two kids lying on the kitchen floor with giant boxes on their heads.
Fresh baked cookies on a Sunday afternoon.
Flowers in our very first ever, garden.
Signs of strawberries popping up outside our window.
Sun warm enough for tank tops and shorts.
Food in the fridge and gas in the car.
Old friends on the farm.
Them laughing all crazy at the top of the stairs.
Always a need for You.
New recipes.
Planning a night away with my Joey.
A kindred friend who happens to live around the barn and across the field.