When we love deep, everything real comes spilling out. With the good and the bad, we drench each other in this messy life.
God has given him so many gifts... The gift of laughter, the gift of encouraging words, the gift of working hard and long and finding joy and even a sense of gratitude in that work. He's a leader. He speaks truth to his sisters, and they often listen, because his voice is kind and inviting. He speaks truth to me... and even though he's five and I'm thirty, I too, listen... because 'out of the mouths of babes...'
Everyone else rests after a day in the mountains with kindred friends. It's Siah and I, and sweet Alair.
They swing high and laugh...
Then it's our turn, him and I..
And for me, there's something quite magical about being a child, being with children, soaking up children. There's this freedom that they have... completely unashamed delight in the small things of life.
As he lays heavy on my lap Alair twirls us round, we look up into wonder...
"Isn't that beautiful Mom?"
He's small... but even he recognizes the glory in God's glorious creation.
I whisper in agreement and draw him in even closer.
I love his smile, his five-year-old giggles, how he finds it funny each time the tire swings close to the fence and he can reach out and touch it's tip top.
I love that he's still innocent enough to think that soaring through the air on the worn out tire swing that hangs from one of the tall trees on our little farm with his Mama, is high on his list of ideas of weekend fun.
I love the game he makes, the expressions that dance across his face,
And the gratitude and contentment that fill my heart when we're together, living this messy life with one another.
I'm in love with those moments when the Lord allows me to go back into innocence... the innocence of a child... better still... my child... the once baby, now boy child that blesses my heart each day.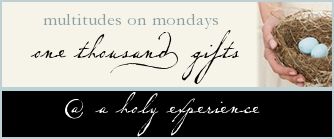 It's Monday again and I can't help but add to the list... #71-80
#72 Joy with the boy that melts my heart.
#73 Work. Work for the hardest working man I know.
#74 Encouragement to try again when my first attempt at home made bread was a major flop.
#75 A weekend of heart healthy conversation with two of the most god-loving women I know.
#77 An afternoon of refreshment, Red Robin, and Ross with dear friends... and the man I love holding down the farmhouse with our many small treasures.
#78 Listening to The Treasures help their Papa memorize Philippians with them.
#79 Jokes and laughter as Papa brings God's Word to life at the dinner table
#80 Papa retelling one of my most favorite stories ever and laughing so hard with the sister and the friend that we all had joyful stomach aches... My Love, you really are Hilarious!
#81 A tender Spirit in me, towards my tender-hearted treasure when I needed it most.
#82 His faithfulness, His tender heart towards me, His great, great great LOVE for this Colorado farm girl.